There is an exhibition entitled "Locus and Focus︰60th Anniversary Exhibition of NCKU Mountaineering Association"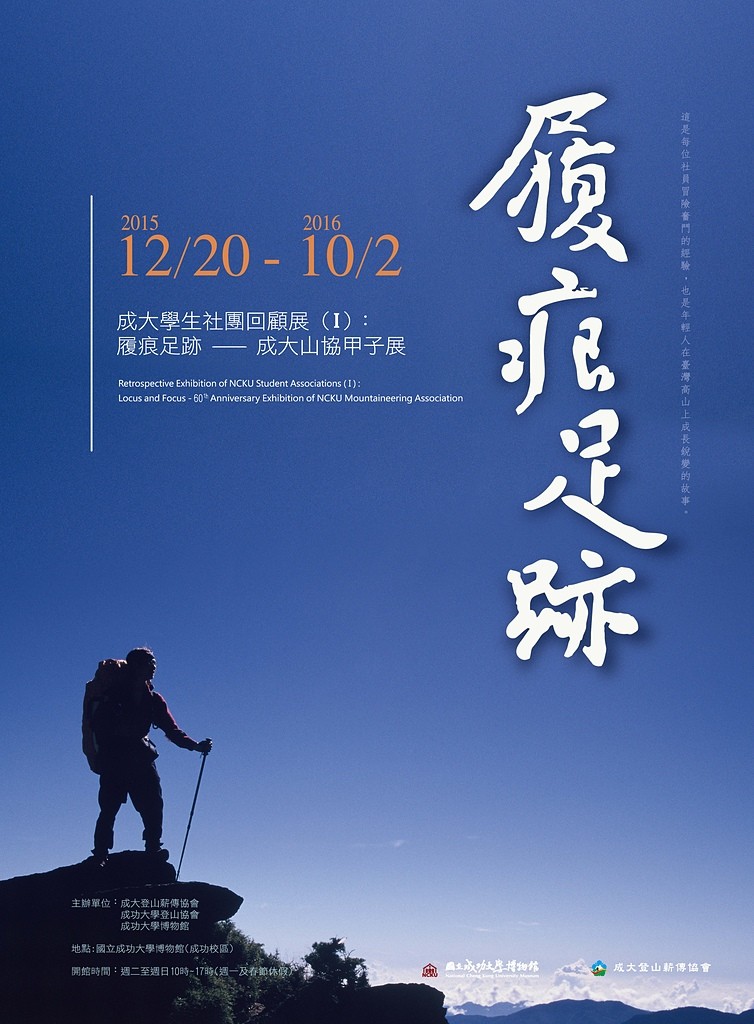 NCKU Mountaineering Association has the longest history among its peers in the field of mountaineering in national universities in Taiwan. To celebrate her sixtieth anniversary, we use the photos of the magnificent natural landscape, mountain gear, outfits, related publications, and outdoor activities to demonstrate the Association's development and evolution over the past sixty years.
These objects are milestones, marking the details of the days filled with amazing adventures. The glorious experience is a series of stories telling the changes and growth of the teenagers spending their time in the mountains. We are looking forward to letting people know the development of mountaineering in Taiwan, recalling the alumni's unforgettable memories, and encouraging our Association members at the same time.
「成功大學登山協會」是全國歷史最悠久的大學登山社,為慶祝創社60週年,由「成大登山薪傳協會」、「成功大學登山協會」與「成功大學博物館」合作,把臺灣高山的壯麗景觀、各時代裝備、出版品及山野活動的照片影片,透過特展分享成大山協這一甲子的發展與變化。這也是成大博物館首度辦理校內學生社團回顧展,期待成大師生瞭解國內登山運動發展與成大山協歷史傳承,並為畢業社員往日情懷與甜蜜回憶留下紀念。
This exhibition has nine themes, which has a theme called "Esprit de corps – Joint forces" show by video as below.
這次展覽包括九大主題:「緣起.標示」、「履痕.社史」、「告白.影片」、「足跡.探勘」、「印象.照片」、「手澤.文物」、「風雲.人物」、「凝聚.會師」、以及「故事.玉山」。其中「凝聚.會師」是以影片的方式來呈現。
Joint-frce connotes an appointment held in a mountain, hikers coming from various trails gathering at a specific summit and time. Safely arrival a remote summit inside craggy sierra in time is an ambitious attempt, as barriers, obstacles, fickle weather, and unexpected situations alongside the rugged trails challenge relentlessly. NCKUMA has been accomplished 25 times joint forces. i.e. consummated 25 appointments in the past decades.
The excited experience of accomplishing a joint-force always cast an unfading memory to all the participants. We would like to share our delighted and touched experiences of 3 joint forces held at Mt. Xue by following photos and records.
「凝聚.會師」是山盟,相約在山頂。千山阻隔,萬里間關,還要準時抵達,空間時間都要對,這是重大挑戰,必須全力以赴。成大山協近四十年來已有25次會師,25次山上的盟約,挑選69年、72年與今年三次雪山會師做報導。而結伴同行、患難與共的經歷,也讓OB間的情誼,歷久彌堅!
In this video, the Mt. Xue joint-forces animation fragment(0:01:00 ~ 0:01:30) is base on a Google Earth picture, and then render the animation by image editing software, which is a great presentation! But also a little stimulation to me, I have made hundreds of Google Earth animation application, Regardless of any object, such as the marathon route, or hiking path, or runners icon, chinchillas bus, Blue Magpie bird, or even helicopters, all can move in Google Earth, but these are all moving single line, "joint-forces" is a few routes moving in the same time. I have not seen such an application in Google Earth. It's a challenge for me, but after doubled efforts, I finally done it!
在此影片中,雪山會師的動畫係以Google Earth當作底圖,依我給的路線、地標,再用專業的影像編輯軟體來呈現動畫效果,這是很棒的呈現方式!但這也有點刺激到我,我雖已作了上百件的Google Earth動畫應用,我可以將馬拉松路線,或者爬山路徑,或者行車路線,或者跑者圖示,龍貓公車,甚或直升機,都能加以移動,但這些全都是單線的移動,「會師」是幾條路線在同一段時間的移動,在Google Earth的世界裡我也還沒看到這樣的應用,經過了好一陣子的思考,最後,我終於作到了!
Here is the Google Earth animation youtube as below. Sure! you can download thisKMZ

file file, and operate in Google Earth.
Now that the technology of multi-lines gathering has developed. There are 6 main ridges in Mt. Xue range, I have an idea on the opposite direction to spread the 6 main ridges from the Mt. Xue main peak. By the way, It's a dynamic display also contain educational significance. Here is the Google Earth animation youtube as below. You can also download thisKMZ

file file.
既然幾路同時移動的技術已開發出來,會師是「聚集」的的動作,我想到雪山山脈有六條主稜,我倒是可以以雪山為中心,沿六條主稜作一個「發散」的動作,順便也用此方式來作一個雪山六條稜脈的動態展示,以下是youtube影片,你也可以在此下載這個kmz

檔。